If you are new here, Subscribe to Full Feeds or by Email or follow us in Twitter and receive free daily updates on Office and Windows Tips, Tricks and Tweaks..
Microsoft paint is often considered to be the novice artist's software as it does not give many features. But hidden within it is a great utility which brings out the imagination of the beginners. Most of us may not be fortunate enough to have high end design software like Adobe Photoshop and they use the Paint software which comes with the Microsoft Windows.
Using Paint one can draw basic figures and diagrams but basically it's a beginners learning tool. I use paint as the scribbling pad where I can get some idea before starting with the actual one in Adobe Photoshop. The surprising fact is that some even master the Paint tool good enough to draw a picture of a car of good quality with free hand.
This picture was drawn by free hand using MS Paint.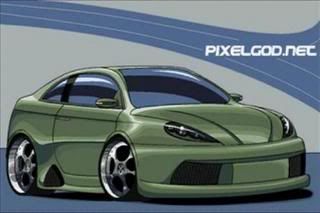 If you don't believe it check out the video.


Here is the list of keyboard shortcut keys used in MS Paint as it is requested by Atul.
The shortcut to Paint is hidden within Accessories and it's hard for the new computer users to find out. If you are not able to find the shortcut for Paint then go to 'Run' and type the command 'MSPAINT'. The other keyboard shortcuts used in MS Paint:
Ctrl+A = Select All
Ctrl+C = Copy
Ctrl+E = Attributes
Ctrl+F = View Bitmap
Ctrl+I = Invert Colors
Ctrl+L = Color Box
Ctrl+N = New
Ctrl+O = Open
Ctrl+P = Print
Ctrl+R = Rotate
Ctrl+S = Save
Ctrl+T = Tool Box
Ctrl+W = Stretch/ Skew
Ctrl+V = Paste
Ctrl+X = Cut
Ctrl+Y = Redo
Ctrl+Z = Undo
Alt+F4 = Exit
F1 = Help